General course information
Please regard following information in order to secure a smooth and secure procedure of the class. In case of any questions please contact us. Starting from 3 riders, we also offer individual classes outside of the course program.
Equipment List
In order to participate in our classes, workshops and tours, you will need the following equipment:
functional Mountainbike (Hardtail, Allmountain, Enduro, Freeride, Downhill)
Helmet
Gloves
Protectors (can also be lend)
Schoes
Flat-Pedals (can also be lend)
Backpack (food, energybar, something to drink, mobile, money, ID card, first aid Set, rainjacket/windbreaker, replacement clothes, light)
Tooling (pump, repair kit, multi-tool, chain lock, derailleur hanger, brake pads, tire iron, cable ties)
Spare tube
Personal medication
skill pyramid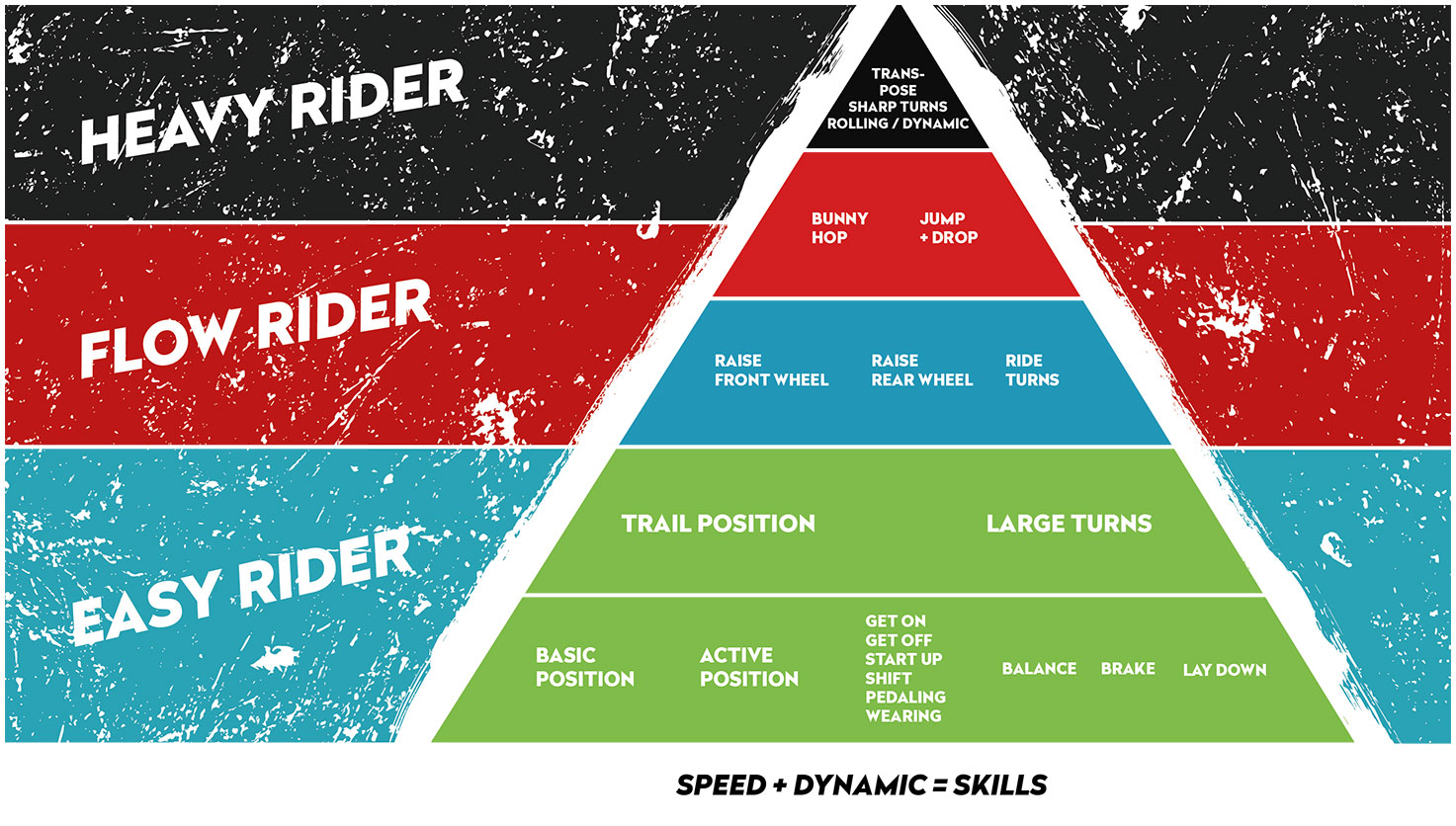 Riding skill philosophy
Mountainbike skills are very similar to winter sports. The material and also the skiing skills have advanced through the years. We have been able to observe the same development at mountainbiking.
The material of the bike did change a lot within the last years. Also for years, we are tempting to adapt the riding skills to the new material. This is why we are in constant contact with other bike schools and skill coaches to keep up to date the riding skills as perfect as possible. It is the same in winter sports as with summer sports – everyone is riding for a long time and is always trying to improve their own skills. We are here to show you in an easy and smooth way, how this is working. In summer time our bikeschool aims to give you a spectacular mountain experience, thereby having fun with the equipment and at the same time, showing you tricks and tips regarding your riding skills.
In this sector we are offering to you all classes, to make you more agile for the terrain. As you can see in our riding skill pyramid, you will need all basic techniques for all the terrains, to get down relaxed, easy going and flowy with your bike. Starting from the basic techniques, there are additional techniques that guide you to the jumps. On top of the pyramid, you can find the royal discipline, which is based on all of the techniques below. Depending on the terrain, they can be varied in various difficulties. Every technique requires its flow; adapted to the body-own movement possibilities. To arrive and persist in the royal discipline, the goal in mind and many hours of training are required. For each rider and every area of application, there is the right individual riding technique.
We want to give you this passion on riding having joy and fun.